Horse Owners Guidelines for Emergency Care from Nebraska Equine Veterinary Clinic 2023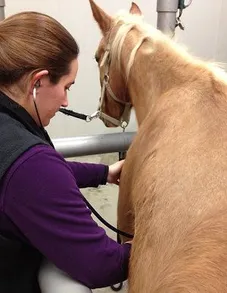 Nebraska Equine Veterinary Clinic has been blessed to have significant growth over the past several years. Much of this can be attributed to word-of-mouth testimonials from our valued clients. During this growth, the geographic size of our practice has grown. Unfortunately, the increased number of clients and travel distance can increase our response time to urgent cases. We understand this may increase your stress in an already stressful situation. Nebraska Equine is passionate about providing veterinary health care to horses both on regular scheduled appointments, daytime, and after-hour emergencies. This letter's purpose is to help educate surrounding horse owners and area veterinarians on Nebraska Equine's approach to providing veterinary services on an emergency basis, so that you may be prepared for an emergency.
We offer the following guidelines associated with emergency coverage, so that we can continue the excellent level of emergency service that we are proud to provide:

• To prevent a 24-hour workday for all of our veterinarians we operate a rotational on call schedule for evenings and weekends after-hour emergency calls. This can be a demanding schedule depending on the number of emergencies. Our daily practice area is approximately 150 miles east to west and 100 miles north to south. Thus, it is easy to understand that the on-call veterinarian may not always be able to travel these distances. We will continue to see emergency cases on an ambulatory basis to the best of our ability, but we ask that you have a plan to transport your horse to the clinic in the case of a situation where the time, distance, nature of the emergency, or multiple emergencies presenting at the same time prevent the veterinarian on call from getting to your location in a timely manner.

•After hours emergency calls and daytime emergencies will be provided services at the discretion of the veterinarian available or the veterinarian on-call considering the following criteria:
·Clients who use Nebraska Equine Veterinary Clinic for their annual health and wellness care (e.g., Vaccines, Coggins, dental work) will receive priority over non-clients.
·Distance to travel for the veterinarian proving emergency service is not a standalone circumstance, but on a general basis, 30 minutes or more drive time will increase the likelihood the horse will be asked to haul into our hospital/clinic.
·In the event of multiple emergencies at the same time (which is happening much more frequently), we will triage these cases and service our regular wellness clients and/or the more critical or time-sensitive cases first.
·Nebraska Equine does not see any other species other than equine. Our specialty is horses, donkeys, and mules. Our ability and knowledge to service other species is limited. If you own other species, please ask your regular veterinarian to provide care for these animals.
·We will continue to attempt to provide emergency coverage (daytime and after-hour calls) to horse owners who do not have a regular working relationship with our practice. However, a large percentage of these cases will be asked to be hauled into our hospital/clinic.
·Emergencies which have a medical condition preventing them from being transported will be assessed via the phone and the best course to provide care will be determined. As an owner, not having a trailer or access to a trailer is not a valid medical reason; therefore, we encourage you to solve this problem before an emergency happens.
•As a horse owner, please be proactive:

·If you believe your horse has a medical issue, please call as soon as possible – even if it is just for advice over the phone. During business hours, there are multiple doctors that can be dispatched to see your horse. If the call is received later in the day, there is only one doctor available evenings and weekends, so your wait time may be longer and your cost, with after-hours fees, is higher. Calling earlier in the day could initiate an appointment during business hours.
·Please have a plan to be able to haul to our clinic to receive urgent or emergency care. It cannot be emphasized enough to have the ability to transport your horse. Either have your own trailer available and accessible or have arrangements with another party who can transport your horse. In emergencies, time can be important; therefore, having a plan prior will be helpful.
·If your horse is boarded at a boarding facility, please understand the facility's policy to be able transport your horse in the event of an emergency. If the facility is unable to transport, establish a backup plan.
Many horse owners keep medications on hand, prescribed by their regular vet. These medications may be useful, and helpful instructions could be provided over the phone.
·Know who to call after-hours and make sure transportation is available if you need to transport your horse to our hospital/clinic or a larger referral facility if recommended.
·Please have an updated payment method on file with the clinic. Our costs associated with diagnostics and treatments are rising, which you may find reflected in your emergency bills. Options to consider starting a savings account or investing in horse insurance to help offset these expenses.
·Please be respectful of the vet on call's decisions as we are trying to provide the highest quality care for you and your horse in the timeliest manner. Therefore, there may be situations when we ask you to haul your horse to the clinic. There are procedures and diagnostics that can be performed at our clinic but not in the field which allow us to provide the best care possible for your horse as well as others having urgent situations.
·Above all, establishing a relationship with a veterinarian or group of veterinarians who will provide emergency care for your horse during regular business hours and after hours is the first step in being prepared for an emergency.
Thank you for trusting us to provide care for your horse. We appreciate your understanding and look forward to continuing to partner with our amazing clients to provide veterinary care for your horses.

Respectfully, Nebraska Equine Veterinary Clinic